Hi there! I am Subham Das aka Sadhe7.
I have been in street struggle music since 2012.
I have been actively revolutionizing Odia rap and hip-hop culture with people with thoughts alike.
I would enrich you with skills that I have learned and acquired hustling on the streets of the state.
By attending this course, you will be learning the techniques of advanced song-making, which includes, free handwriting, thematic writing, composition styles (flow), content-based beat and beat matching.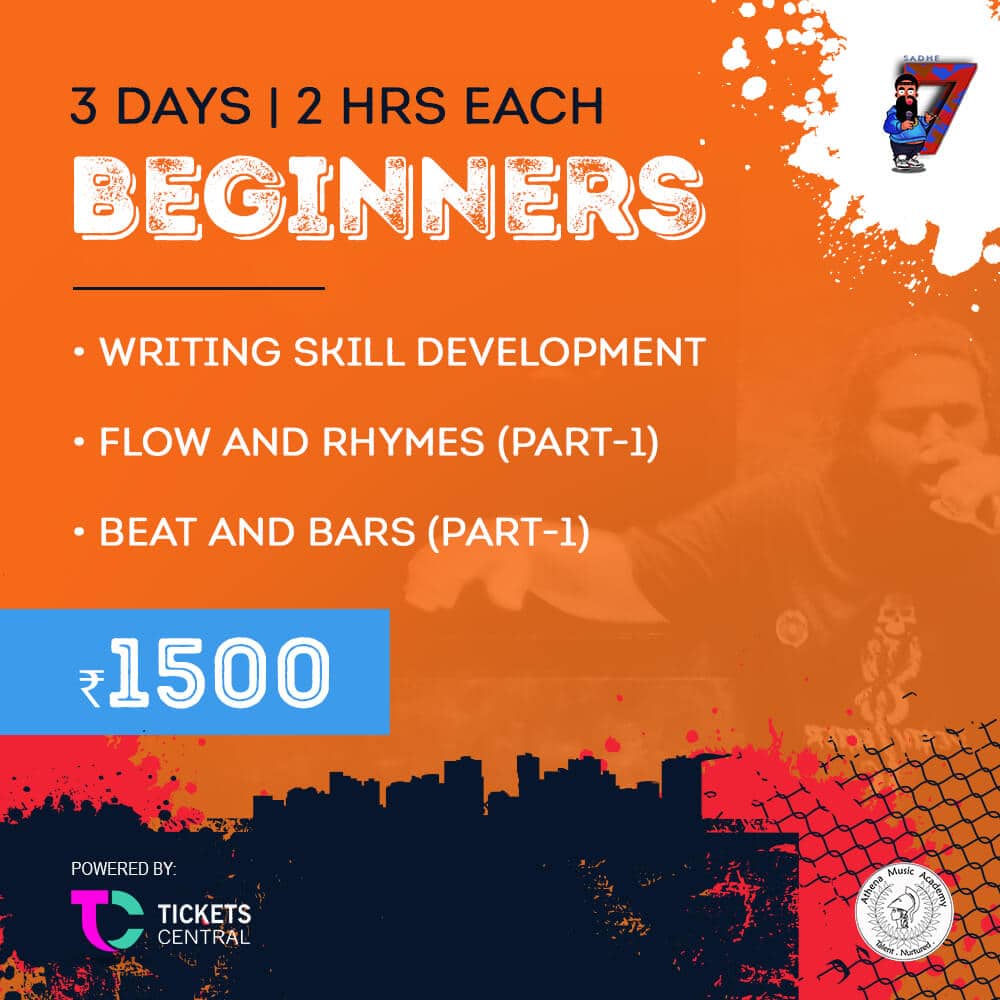 Introduction to Hip Hop:
From the birth of Hip Hop to the evolutionary journey, nurture the essential skills and explore the elements to kick your morning from your morning bars to night bars. Rapper and emcee are from different cultures. Rapper and emcee are from different cultures. An emcee is a representative of hip-hop culture. A rapper is a representative of corporate interests.
Writing skill development : Writing methodologies in a 3 step process to build your writing skills.

    

Flow and Rhymes (Part-1) : Study the Journey from basic to advanced flow skill.
Beat and Bars (Part-1) : Beat sign and beat signature are most essential for a rapper.
Cultural art of rapping:                                                                   
Tempo, timing and meter :

Understanding beats to improve delivery skills

Beat and Bars (Part-2) :

Every rapper should sound unique when he/she can write or spit with and without beat, this section covers your range and authenticity.

Flow and Cadence (Part-2) :

Learn how to compose flow while writing and how to use cadence while

composition.

Content Creation :

Your thoughts and emotions, opinions and understanding of the world, your bars and musical inclination defines your individual art, makes you a unique artist. With this course you will get the required grooming for thematic content creation.

Basic rap structure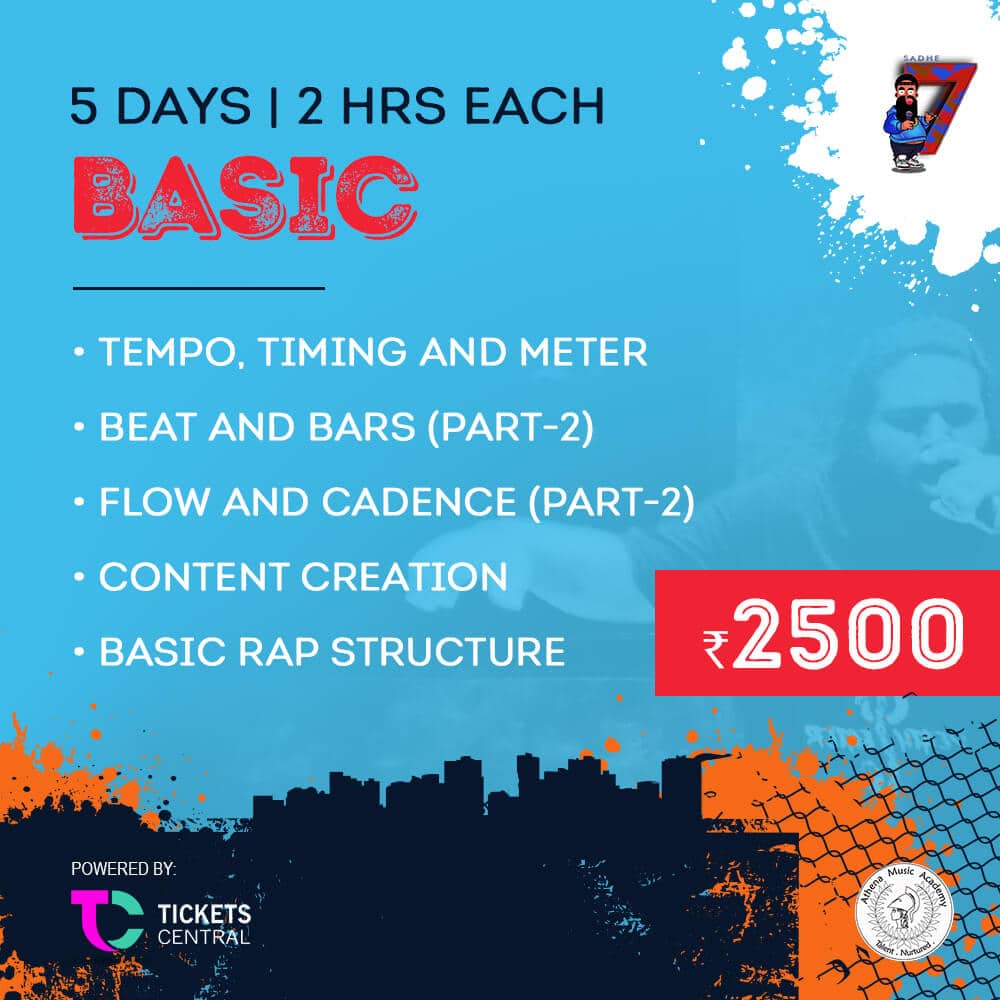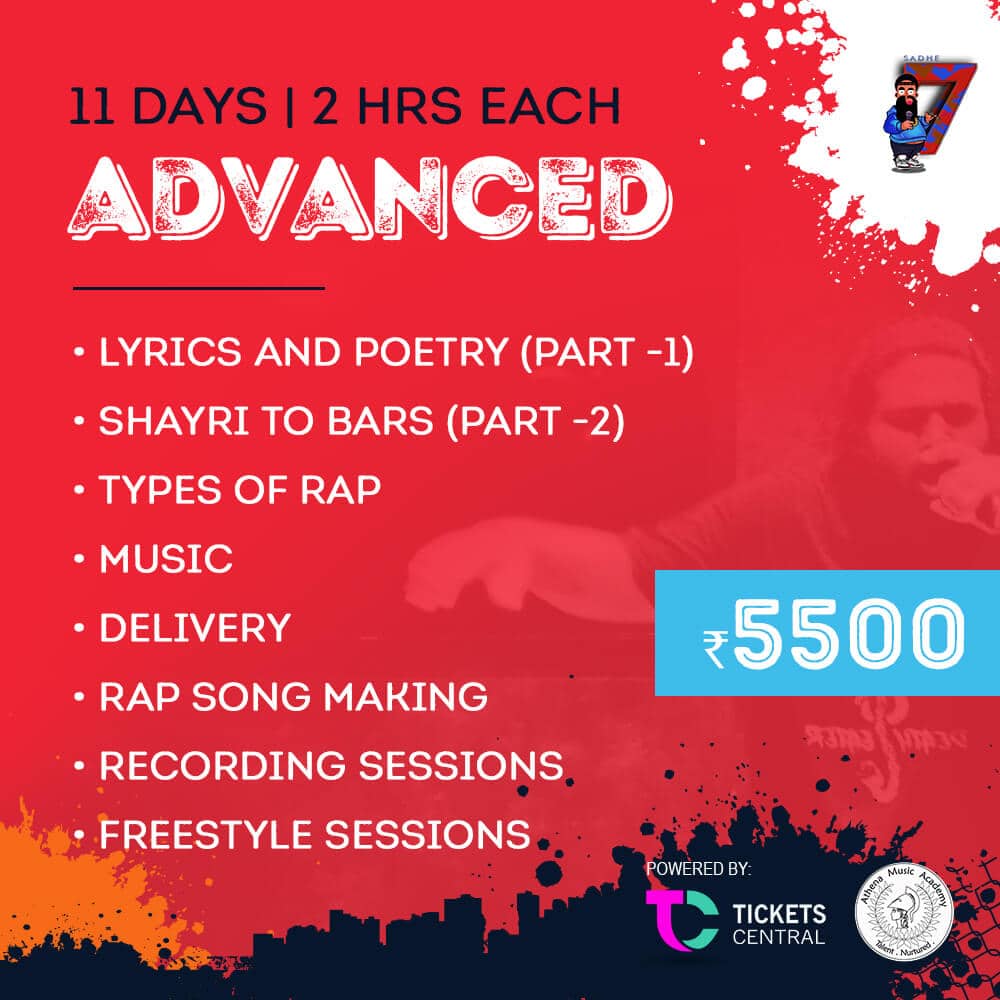 Lyrics and poetry (Part -1) :

Learn how to add poetic tools to make your lyrics deeper and meaningful.

Shayri to bars (Part -2) :

Learn how to express deep emotional shayari 

Type of rap (Part-1) :

Different styles of rap.

Type of rap (Part-2) :

Different type of element or theme of rap

Music 
Delivery
Rap song making :

9 steps to advance structure of a rap song

Recording session (Part-1) :

How to use a daw to record and about equipments used while recording

Recording session (Part-2) :

How to record and the process of building structure of rap song

Freestyle session (Part-1) :

Basic idea to freestyling 

Freestyle session (Part-2) :

While freestyle how to compose and build best flow
Music production and performance: Most essential and important part of a rapper is the connection with music producer and engineer to come up with the best output. Hiphop is a culture and a lifestyle of a hip hop artist so a rapper is an emcee so he/she is a performer.
Structure study (Part-1): Explanation of "Haqeeqat" and "Sawal Hai" by Ashis Mishra and Sadhe7
—
Videos: Rap is not just rhyming and music , visuals are a huge part of hip hop, where an artist represents the moment of that music and expresses the emotion of the theme.
Structure study (Part-2): Explanation of "Show Me What You Got" and "Haqeeqat" by Robin Biswal and Sadhe7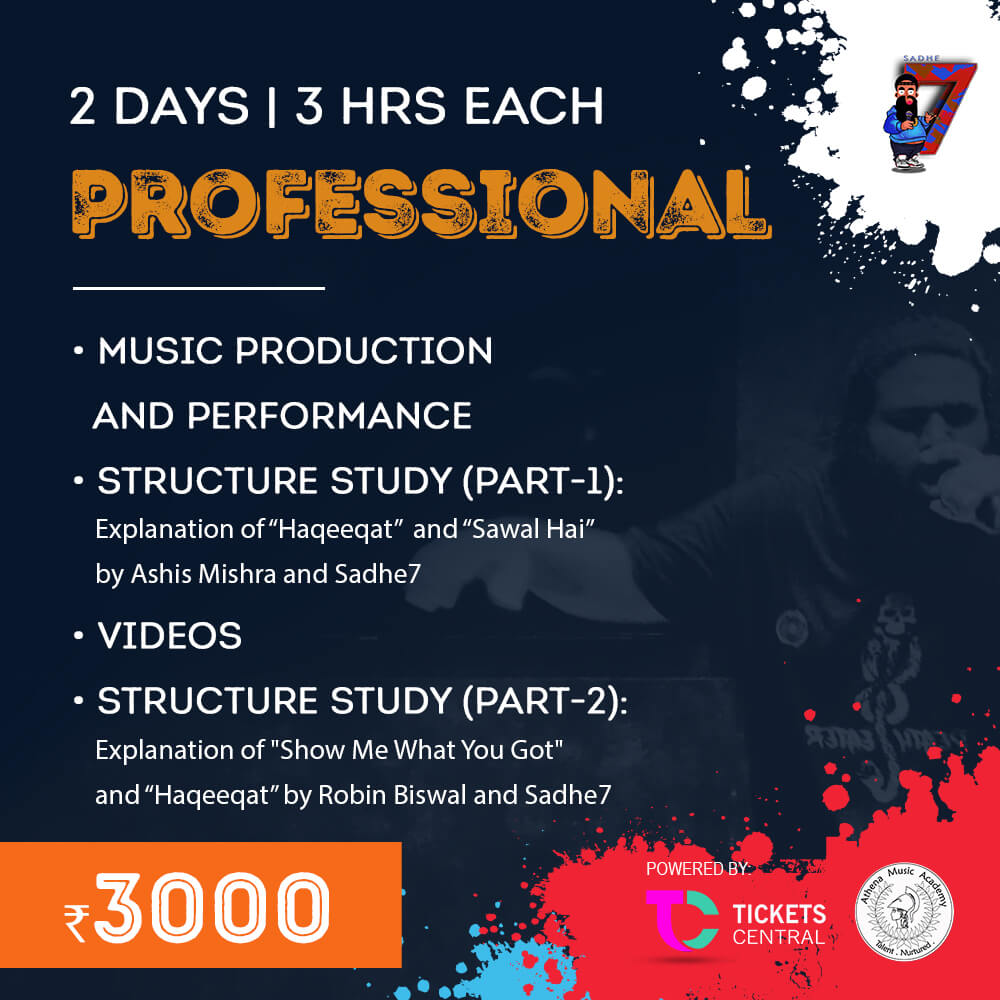 LIMITED SEATS ONLY! GRAB 'EM NOW!