The two sisters Debmita and Susmita Dey are based in Tollygunge, Kolkata and they are not only into dreaming big but also give their best to
transform their dreams into reality. Their mother, Smt. Mamata Dey is a music teacher. They have been learning the art of singing since the age of two. Their father, Shri Tulsi Kumar Dey was into theatre. They claim that he is an amazing actor and an equally talented poet. They also wish to publish his diary someday, as a tribute. Thus, their knack for music and creative flow is more or less inherited. It's their consistent effort that is making a difference. With their favourite genre in songs being 'Bollywood', their tangy and spicy personalities and work style never cease to attract a strong fanbase. Below are some noteworthy excerpts from a fun-filled interview with them.
When did the decision of pursuing music as your profession and vocation come into play?
"Our musical journey started when we were very young. It was classical music that we learnt from our mom", said the sisters. Having a depth of knowledge and understanding in classical music led them to participate in a reality show in 2007. The show was called 'Antakshari – The Little Stars' and was aired on the famous Indian TV channel Star Plus. The sisters represented the East Indian zone and ended up as finalists. They were highly motivated and their confidence got major boost. That was when they decided to pursue music professionally.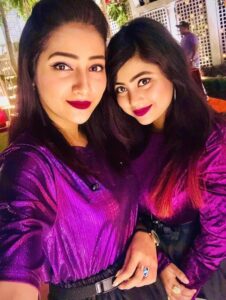 We now know that you have a band named 'inDiSiz'. How did you come up with it?
"Initially, we used to sing individually and had less to do with what the other was doing. We had separate channels on YouTube. Solo singing was our forte. However, due to the lack of time on our mother's end, we had to resort to our guruji Rathijit Bhattacharya for further training and guidance. He was the one to suggest the formation as well as the name of the band 'inDiSiz'. The name signifies 'Indian sisters' and had the letters D and S in capital so as to be symbolic of the first letters of our names."
How do you think life has helped you to thrive on your course of pursuing your musical dreams?
With the formation of their band, the YouTube channels eventually merged. Susmita said that having pursued Journalism and Mass Communication after school, helped her in coming across many technicalities which help her to survive quite well in the techno-influenced world. She had to learn how to film documentaries in college and has self learnt the art of video editing. All the videos on her YouTube channel is self edited. She went on to pursue Masters in Vocal Training. The sisters did a summer course at London School of Music. They are more or less self sufficient and do things like scripting, editing, lyric composition, etc., on their own.
Some memorable experiences.
Debmita has a tendency of often forgetting the lyrics. When something like that happens on stage they turn the mic towards the audience and
ask them to chime in. "We have many such hilarious incidents. We have an extremely strong chemistry and a good coordination. Sometimes we forget lyrics at the same breath, at the exact moment and then we go blank. It's the lively and a sport of an audience that keeps us confident and going," said the sisters. A really memorable experience for them was when Susmita was in the 7th grade and Debmita was in the 9th grade. They had been sponsored the flight tickets to Bombay. It was their first time on a flight. However, the fact that made them ecstatic was the happiness of their proud parents who got to board a flight for the first time because of their lovely, talented children!
Experience in shows abroad.
They have performed abroad in countries like Thailand and London and the response they received has been overwhelming. When they were invited over to perform in London, they were quite tensed as they knew singers and music artists from all over the world would accompany them. They fortunately turned out to be a wonderful set of people. After their classes, the foreigners used to ask the sisters to sing Hindi songs for them. Once they were singing 'Senorita' from Zindagi Na Milegi Dobara and they a Spaniard guy sing the female vocal which comprised of the Spanish lyrics. He was quite a sport and carried it off well. It was the month of August and the sisters had decided to release a song video on Independence day. It was a medley of Jai Ho and Vande Mataram. The foreigners voluntarily sang with them and even the song Jai Ho was suggested by one of them. The sisters were amused when they saw how Indian culture and music is highly prized by people abroad.
How do you want people to remember you?
We are very determined and our goal has been clear eversince. I crave fame and that has been and is the motto. We want to remembered in all glamour and glitz by people. We want them to enjoy our works and keep waiting for more.
Best Hindi Retro Mashup 2021 | inDiSiz feat. Ankit | Good Karma | Debmita | Susmita