"Art has innumerable faces". No matter how arduous your journey is, a little effort to bring out your creativity can make a vast difference. 27 year old migrant-worker-turned-rapper Duleswar Tandi is the finest example of it. A science graduate from Kalahandi, Odisha, Duleswar gave up his studies due to several ordeals in life and migrated to Chhattisgarh to seek his fortune. Several trials and tribulations choked his way, but his love for rap didn't fade away. His intense passion exploded into "inventive lyrics" that has taken rap-lovers by surprise. Duleswar's claim to fame is his "unique portrayal of the plight of migrant workers in the present scenario". Being a survivor of all the hostilities that a migrant worker encounters, Duleswar has used his brilliant rap skills to vent out the resentment of the miserable migrant workers in the country. Moreover, Duleswar has corroborated the fact that "Language Barrier" is a myth. His compositions assert the idea that as long as the audience can resonate with the emotions spun with the lyrics, art can achieve it's genuine purpose. Out of his many groundbreaking compositions, his latest release "Telling the truth" became a phenomenal hit as it set the internet on fire. Celebrated personalities of the Bollywood industry namely Vishal Dadlani, Priyanka Chopra and Swara Bhaskar appreciated this raw talent and applauded him on their respective social media handles. After the huge success of his latest rap song, he has been approached by many leading singers and music directors for collaborations. Duleswar has even quit his job in order to focus on his musical career.
In a conversation with Athena Music Academy, Duleswar has opened up about the different phases of his life, the highs and lows in his career, and how his intense passion for rap music has given him the recognition that he's worthy of. Here's a segment of the interview:
How and where did you begin your musical journey?
I've been exposed to music since my childhood". I grew up under the influence of theatre and drama. Nowadays, you don't get the feel of a raw theatre. But, back then I was lucky enough to witness the beauty of art. During those days, we didn't have access to electronic gadgets like mobile phones and Televisions, and that endeared us to drama. I have worked as a child artist in many of those theatrical plays staged in my hometown. Soon after that, my school became the main centre of many extra-curricular activities like dancing and singing and I actively participated in those activities and got to learn the various forms of art. It was only my college days that I started penning down my own compositions and couldn't give up on it. Very soon I realised that my write ups were a bit different from typical poetry. Those times were really tough since most of my earnings were spent as medical expenses and it was during that time I realised that my genre of composition is "Rap". My friends did recommend me the names of artists who would help me realise my dream of becoming a rapper but unfortunately I did not have enough money for the same. Without anybody knowing my whereabouts, I migrated to Raipur where I spend weeks searching for a job and a studio for recording my rap simultaneously. My educational background did not help me anyway, as I did not carry my certificates along. Frustrated and broke, I started on the hunt for menial jobs in hotels like cleaning utensils and sweeping the floors. After days of wandering frantically, I found a generous fellow in a nearby studio who offered to record my composition in exchange for ₹500. But that did not make a big difference as I had no means to release it on any medium. Meanwhile, I started posting my compositions on Facebook and moved to Chandigarh after being invited to perform there at an event. That was a life-changing experience for me (he smiles). Since then, I've been dedicatedly pursuing my passion.
Your recent release" Telling the Truth " has received huge appreciation from celebrated artists like Vishal Dadlani, Priyanka Chopra and Swara Bhaskar. Your subtle portrayal of the plight of migrant workers has garnered a lot of attention from the audience as well. Do you feel that your composition will help change their composition in the coming days?
I don't know if I've impacted the people or the Government anyway, but I've definitely exposed the misery of the migrant workers and I believe that after this point,we shall witness a reformative trend in their status.
Your way of presentation and concept behind each of your compositions is quite fresh. What response have you received for adopting such a novel technique in rap?
I'm overwhelmed with all the response that I've got from both within and out of the state.Accolades have been pouring in from across the country. I've emphasized on using my local language for the song but what has amazed me is that people could relate so well to the music and enjoy every bit of it. I'm glad about that.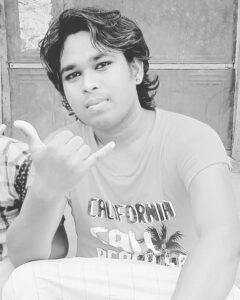 "Language isn't a barrier". How have you tried to incorporate the idea into your compositions?
I totally defy the theory that language is a barrier. If that was the case, I wouldn't have received the recognition that I'm enjoying today. I've written in various languages like Hindi, Odia and English along with my vernacular language. And I strongly believe that language is never a barrier until the emotions are conveyed.
What are future endeavors from now? Can we expect any upcoming projects or collaborations?
My only dream is to see myself as a known rapper. There have been many plans and proposals previously but none of them have materialised. I never call a project "upcoming" till it actually takes shape (giggles). I wait for the right opportunity to come and hopefully I'll be soon collaborating with eminent artists and release my projects for the audience.
A raw talent with immense dedication towards his goal, Duleswar has set an example for the youth of today who fails to achieve their dreams even after acquiring all the luxuries in life. We wish that this emerging rapper's dream of becoming a national icon soon comes true and he earns the respect and recognition he deserves.