The possessor of a melodious voice, one of the most consummate and versatile musical artists in the state today, is none other than the young and vivacious Antara Chakraborty.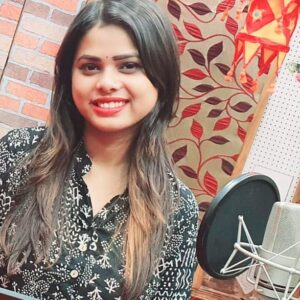 Hailing from a family of musicians and blessed with a gifted voice, this young singing sensation has earned a strong fanbase for herself within no time. As of now Antara has showed her singing prowess in over 80 movie compositions, 500 album songs and over 50 television scores. Daughter of lyricist Mohit Chakraborty, Antara's love for music was evident from an early age. Her immense devotion towards music let her to be noticeable amidst the crowd and she bagged her first musical assignment in the form in the movie "Maudamani".
Since then Antara has grabbed eardrums with her stellar performances and has become one of the leading singers on the block. Like many of her contemporaries, Chakraborty had to fight her way through her obstacles to get into the position where she is today. An optimistic Antara believes, "Success isn't everything in life. Satisfaction must be the prime motive". A very pragmatic woman in real life, Antara has always made it a point to "never run after ephemeral success" in life. Undoubtedly, this unfazed attitude of hers has brought her all the success she rightly deserves. Her impressive journey will definitely inspire thousands of aspiring youngsters to nurture their latent talents and grab limelight one day.
In a brief interview with Athena Music Academy, Antara has opened up about the initial days of her struggle, her gradual evolution as a commercial star, the experiences she has garnered and the feats she wants to achieve in future. Here's a snippet.
Coming from a family with a lineage of music, how easy or difficult was it for you to set off on your musical journey? 
Well you cannot say that having a musical background is all you need these days! When I started off, I was carrying my father's name. I was shouldering a huge responsibility. With my own set of struggles to face and my own lessons to learn, I was evolving every day. I started my career pretty young when I was in the 9th standard. Since I was very young to realise my musical faculty that time, I never thought that I would become a professional vocalist one day.

When and how did you decide to enter into the field of music and who according to you was the major inspiring force behind your decision? 
There are many faces behind my journey. There are people of all fields who have inspired me and let me work on my own terms". I owe a large part of my success to Abhijit Mazumdar Sir, who noticed me in one of my performances and encouraged me to try my luck in the music industry.
We have already seen you acing various genres of music, be it classical or rock genres. How important do you think it is to be versatile, especially when the choices of people are evolving? 
When I started off, I could only sing classical compositions. As I started experimenting with my voice, I was amazed with the results. It's when "DJ Wala Dance" became an instant hit, I realized that it's time to introduce variations so that every age group is able to connect to my work. The biggest lesson I've learnt in the industry is to never limit yourself. Versatility is the need of the hour. Experimenting is important. I never wanted to be labelled as a stereotype. That's the reason I've worked with various directors who offered different kinds of compositions be it ghazals, western or classical.
Please share some of your major learning experiences in the industry. 
Learning is not an overnight process. It takes time. I've been in this industry for seven years now and throughout these years, I've worked with various directors, who had many things to deliver. When singing for a movie, you're singing for a character, so it's very important to mould yourself according to the attitude and role of the actor in a particular scene so that the audience won't find it unrealistic. Having said that, it is very important to decode the requirement in each song so that it strikes a chord with the listeners.
Having come a long way in the music industry, and established yourself as a known face in every household, what would be your piece of advice to young aspirants in India willing to take up music as a career? 
As much as I've learnt throughout my musical career until the present time, I strongly believe in following your heart and never settling for the good. Always strive for the better. The world is full of opportunities and in order to turn heads towards yourself, all you need to do is to tap those opportunities well. My only piece of advice to the youngsters would be to never run after ephemeral success. Let your passion engulf you completely till you emerge as the best version of yourself.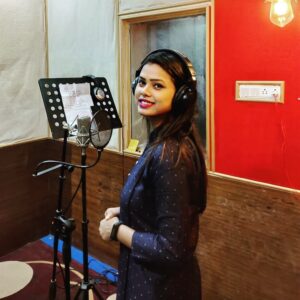 If you were not a popular singer, what other track would you pursue? 
I'm absolutely enjoying this phase of my life. As I had already stated that attaining fame was never a plan. To me, music brings solace. Even if I wasn't a popular Singer, I would have never regretted the fact. I have always made my passion for singing my first priority and I would never substitute it with anything. Until and unless I have music in me, I will enjoy every part of my existence.
Apart from making a mark in the Odia music industry, the melodious singer has also achieved a strong hold on the Bengali music industry. We hope that the rising star gets national acclaim for her talent one day. With numerous projects in her hand, Antara has surely jumped into the bandwagon of emerging talents on the block.
Follow Her:
Barida Re | Film - Lakshmi(1962) | Antara Chakraborty | Puni Thare