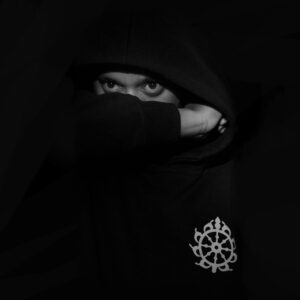 KALINGA SON is a Psytrance artist, with humble roots in Odisha, India. A.K.A Saumya Mohanty, he has been associated with electronic music for more than 10 years. His music is a blend of heavy baselines, emotional chants, mantras and mesmerising melodies which take you on a transcendental journey. Saumya has performed in many places, like Goa, Bangalore, Hyderabad etc. And on iconic stages like Hilltop, Sunburn, Shiva valley, Origens, UV bar and many others. He was also invited to be a guest DJ at the much acknowledged RadiOzora, which is run by the famed OZORA Festival. We hope to see this Odia artist scale even greater heights.
A little backstory about where it all started?
It is a little difficult for me to point out exactly where it all started but I do have a story. I feel grateful for my humble beginnings. But as life in the suburban and rural areas majorly constitutes of listening to old Bollywood songs and bhajans, growing up I had the same experience. I would love to listen to the radio and switch to channels which played songs of my liking. One day, while experimenting with radio frequencies on the terrace, some Korean or Chinese electronic music started playing out of nowhere. I have always been an earnest patron of music and this was a completely new experience for me. It aroused a strange curiosity within me when I heard something that was so different from whatever my immediate surroundings had introduced me to. I wanted to explore more, but access to technology was a great barrier at the time.
While pursuing engineering, I moved to a place close to the Odisha and West Bengal border. I now had access to laptops and the internet. I dived into electronic music and in no time I was producing my own music. I could not afford to spend much on classes and courses so I learnt through online videos and blogs. In this way, I am mostly self-taught. When I first started music production in 2008, I worked with Bollywood and electronic music. I eventually started my own radio show, called Club Mania, which is now India's longest running Trance radio show with more than a decade of air time under its belt. Due to a packed schedule, maintaining regularity has been difficult. Nevertheless more than 300 episodes have aired worldwide so far. I subsequently started another radio show in 2017 called Samay Chakra, which is a Psytrance radio show. Samay Chakra has hosted some big names in the Psytrance industry, such as Astrix, AceVentura, Vini Vici, Mad Maxx, and many others. Both Club Mania and Samay Chakra air on DI.FM (world's #1 Radio network for electronic music).
Which was the most impactful phase of your musical journey?
After a while of playing Bollywood music in my early days, I felt it did not serve me anymore. It became quite monotonous, and offered me little of the depth I needed. The commercial aspect of it all was quiet numbing to me. I wanted to delve into deeper dimensions of myself and find the place in me where I authentically connected to my own music. I spent a lot of time in nature, and meditated at quiet serene temples. Through years of exploring genres, I finally arrived at Psytrance as a genre I really connected to deeply. This journey has shaped me as an artist.
Sometimes, I record music, not for a crowd but just for myself. I play random tunes to connect with myself and my deeper emotional states. And I find it deeply relaxing. It is like a sadhana for me.
What according to you has been your best experience or work so far?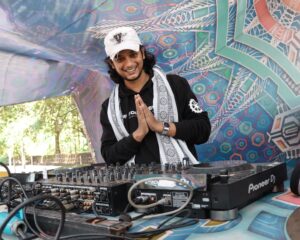 I have been blessed to perform at HILLTOP many times. But playing at their Hilltop Festival this year was an absolute dream come true for me.
Of equal importance to me was performing at SHIVA VALLEY, often described as a temple for Psytrance music. Performing there is quite an unreal experience. One night there, I was supposed to play for an hour but ended up playing for five and a half hours! Those beautiful people kept dancing to the music. I could see the sun rise gradually, I could feel the music reflecting off the people. That experience was soul transforming. The vibes cannot possibly be described in words. This was one among many nights at Shiva Valley that are forever etched in my memory. And I feel honoured.
Another spirit uplifting experience for me was the Alaukik Tribal Gathering in Odisha. It was at an eco village situated amongst the serene hills of Eastern Ghats. It was one unforgettable experience.
Who do you think has been a constant support to you?
When I see beautiful smiles beaming at me from the dance floor as I perform, THAT is the best support and motivation for me. In my journey, I have crossed paths with many beautiful people, who have become the stars that guide my musical sails. Friends, who understand and appreciate what I do. Their encouragement is a blessing for me. To name a few would not be fair.
Needless to say, I have found strong support in my own self. Life is unpredictable. Believing in myself and just NEVER GIVING UP has been the backbone of my journey.
What is your personal take on the kind of music you produce?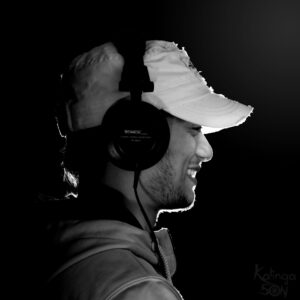 Exploring different genres of electronic music has been fun so far. I emotionally vibe with many genres. But I connect most with Trance, Psytrance and Psychill. I think it is our emotions that choose the music, and not the other way round. For example, when we feel low or lovelorn, we deliberately listen to sad songs and so on. For me Trance music is emotional, and Psytrance is spiritual. They speak to my soul.
I believe in telling stories through music with beautiful and happy vibes, that is my production style.
<we wish him a thunderous career ahead>
Here are some links to his works-
View this post on Instagram
Closing set @SkyDeck, Bangalore
Follow him on Social media