The pearl of Bay of Bengal from the shell of a humble suburb, Bally, West Bengal whose strumming has created a web to entrap all music lovers is none other than Avik Acharjee. He is a Lead Guitarist, Singer, Music Arranger and a Player of Multiple Instruments who has acquired his love for music from his family. Avik's father, Sri Krishnendu Acharjee, is a passionate tabla player and mother, Smt. Sutapa Acharjee, holds a Master's degree in Rabindra Sangeet. Avik began playing tabla as a toddler, has received training in Classical Vocal, won accolades in inter-school and inter-college music competitions. He started playing the guitar in twelfth grade. He claims to be a passionate musician and can play many Percussion instruments (Tabla, Dhol, Sree Khol, Kahon, Drums), Piano, String Instruments (Electric Guitar, Spanish Guitar, Hawaiian Guitar, Bass Guitar, Banjo, Ukulele, Dotara). Presently, he runs a music school named "Avik Music Shikkhangan". He has accompanied many well-renowned artists like Nachiketa Chakraborty, Raghab Chatterjee, Abhijit Bose, Pt. Sanjay Chakraborty, Sidhu (Band- Cactus), Upal (Band- Chandrabindu), Purna Das Baul, Dibbendu Das Baul, Arunashis Roy (Ghazal artist).
 He has been a part of many YouTube projects, short films, singles albums of Bangladesh, 'Ghazal', a project of Afghanistan and has played in live concerts in various states. His foreign-based Digital Concerts include the Annual program of "Parampara School of Music, USA" and Bengali Association of Greater Chicago with Abhijit Bose. Avik is a regular invitee in Television channels such as Akash8, DD Bangla Kolkata, Rupali Bangla, CTVN, Dhoom Music, Tara Music, Orange Bangla, RPLUS, Channel One, Globe TV and Sony TV (Bangladesh). He has also played in AIR (All India Radio). Avik's educational background is furnished with  B.Sc Computer Science (Hons.), seizing a first-class. Avik cracked JECA and completed MCA from Kalyani Government Engineering College. Avik had successfully launched a software named "Self Music Tutor" in his Final Year Master's Project.
During his interview, he provided us with real-life experiences and toned down views of his journey so far.
What skills have you acquired so far which can shape and help you excel in your career as a musician?
'A good musician should know when to play and when to stop. So, I prefer to play along and vibe. I don't necessarily have to be loud in every song. Sometimes, just supportive playing is enough. Since 2014, I've accompanied many artists and have been a part of various recordings. To support myself financially and to retain the hold on my basics, I've even been giving private tuitions.
Why did you pick this as your career over everything else?
Who is so practical enough to run after a career, overlooking his heart and passion? Not me! I can hold my head high and say that I used to practice playing the guitar for 7-8 hours a day. When I was a fresh performer at local shows, I was deprived of my rightful payment many times. Despite toiling for days to make the shows a success, we were not even provided with food packets after the shows. However, to pick myself up and carry on grinding on the way towards my dream, I used to read autobiographies and listen to the interviews of successful artists. Their stories made me realize how they too had to struggle through the tough phases. I used to get charged up post these sessions and get back to endless hours of practising and work.
Which category of singers would you place yourself under?
No particular category… I go with the flow of the song's melody, lyrics and feel. It is not the time to stick to a particular genre because it is the age of 'Fusion'. So, in a Classical Song, I have to play Riffs and Rock Leads. I play along according to whatever the song demands of me.
What do you feel has been the most memorable performance of your career so far?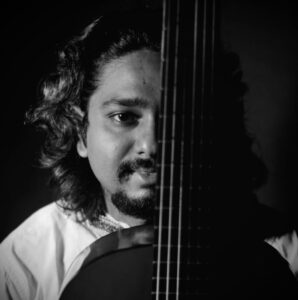 For me, every stage and every performance is important. However, my first live show, TV show, first online digital concert and my first Radio show are distinctively memorable. I learnt to shake off stage fright by performing regularly in front of large audiences. From being a commonplace musician to a celebrity under hundreds of floodlights is a rib-tickling experience. Look, I'm gushing! But the light of pride and satisfaction that sparkled in the eyes of my parents outshone everything. How can one forget those moments?
Does not staying away from loved ones and friends for long durations feel scary?
I miss my family but I love travelling. It is a great experience to be playing in different places and enjoying as the audience (of different taste) vibes with my music everywhere I perform.
Do you ever think of a person while composing music? 
Yes. When I compose or play, I need emotions rushing within me. Of course, every artist has his muse. "If music be the food of love, play on."
Nisha Lagilo Re - New Version | Hason Raja | Sampan - Folk Band | Folk Studio | Bangla New Song 2020